British Versions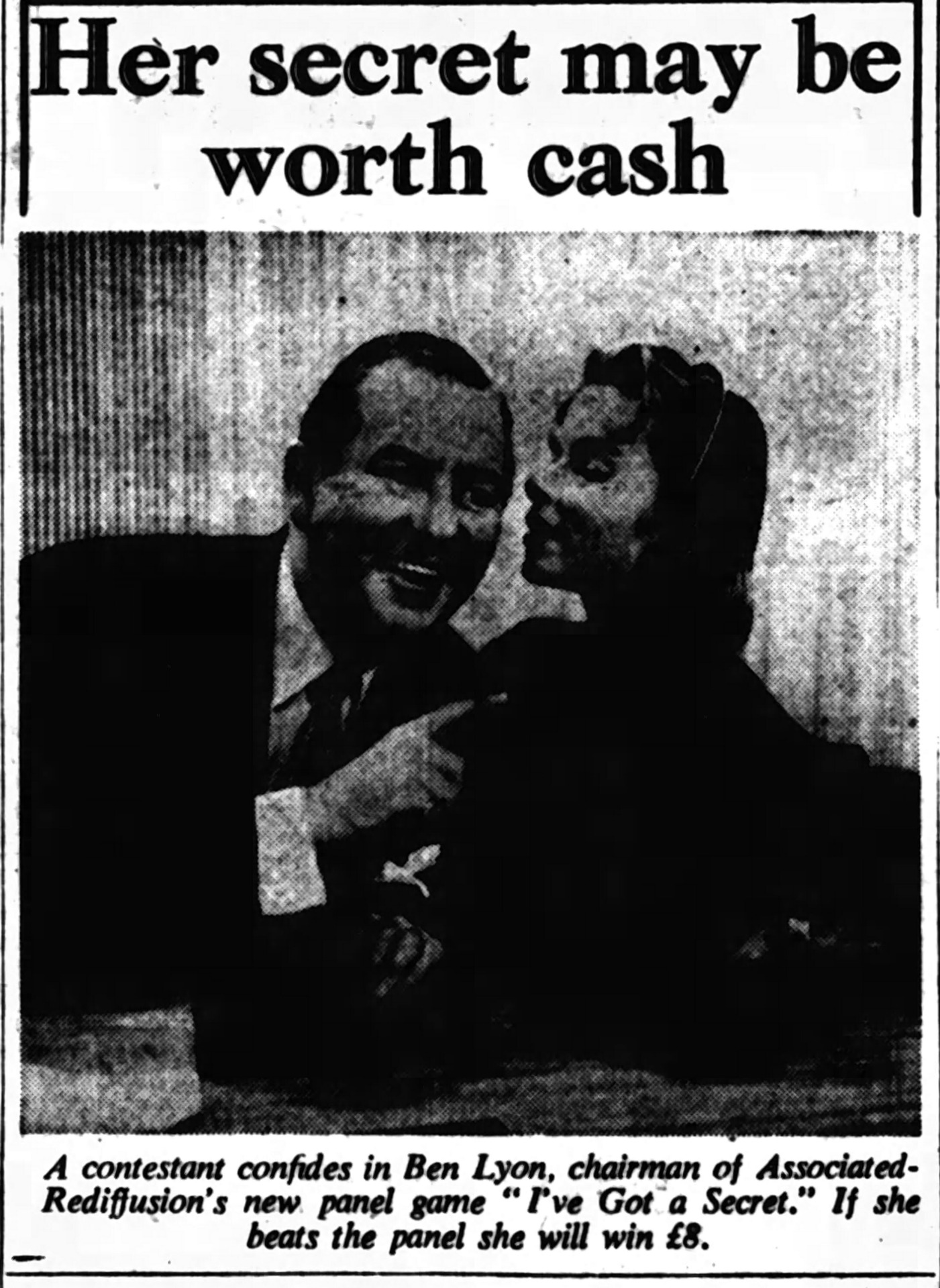 The UK had series of I've Got a Secret in the fifties and in the eighties. Before we continue, a vocabulary note: The British refer to a short run of a limited number of episodes as a "series". So any continuing programme, like Secret, would consist of a number of different "series" of, say, ten or so episodes.

The first version was seen in 1956 on the independent, commercial ITV network. Two series of shows aired from January to September. After a break of over a year, a third series returned in the summer of 1958. The unlikely host of the original two series was Ben Lyon, an American actor who worked steadily in Hollywood for decades before moving to London in his forties and creating a new career as a television personality there (See E372 ). Lyon is also credited with discovering and nurturing a young Marilyn Monroe. The 1958 summer series was hosted by actor and writer Digby Wolfe.

This version structured itself almost identically to the original rules of the American show. For each panelist that was stumped, the contestant received a cash prize of one pound. Questioning went around the panel twice, meaning that the top prize was eight pounds.

The panel for the 1956 version included actress Zoe Gail ( E312 , E323 ) and personality Catherine "Katie" Boyle ( E128 ), both of whom also appeared on the panel of the American version. Frequent male panelists were Dick Bentley and Kenneth McLeod. Another occasional panelist appearing on both the 1956 and 1958 series was Jon Pertwee, who would later gain lasting fame as the third Doctor in the Doctor Who series. The 1958 version featured Sara Leighton and Eunice Gayson. Gayson would later play Sylvia Trench in the first two James Bond movies, laying claim to being the first "Bond girl".